Jean-Pierre Sighé
Jean-Pierre Sighé of West Central Africa's Cameroon nation grew up in a cultural environment where dancing was part of normal living. Equipped with his African dancing background, he later discovered the Latin dances and immediately felt their appeal. Living in Europe, he delighted in Salsa. In the U.S. he pursued his passion for Salsa dancing and decided to further explore Latin dances, such as Rumba and Cha-Cha in the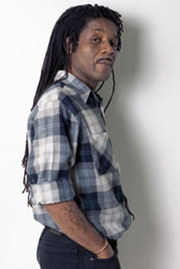 Ballroom context. In 1998, he was invited to discover the Argentine Tango. He intensely and exclusively studied with his first teacher s Alberto Paz and his partner Valorie Hart for several months.
Solidly grounded by Alberto and Valorie's instructions, he later intensified his learning with other Tango Masters, such as Carlos Gavito (and Marcela), Fabian Salas, Chicho (Frumboli), Julio (and Corina); and occasional classes with Eduardo and Gloria, Fernanda and Guillermo, El Indio, Todd and Marizabel. Jean-Pierre has been dancing Tango since 1998 and believes everyone of these Tango Masters opened an enriching window in his mind. Another Tango Master who has enriched Jean-Pierre's experience is Facundo Posadas who generously shared his knowledge and extended his friendship.

Jean-Pierre is a founding member of A.R.T.S. (Afro Roots in Tango Society). The group was created under the active inspiration of Facundo Posadas, the living Tango Master from Argentina. A.R.T.S. is dedicated to spreading the little known information about the Afro roots in Argentine Tango, dating all the way back from the Candombe of the African slaves and their descendents.

His motivation for teaching Tango derives from his desire to share with others the beauty of this wonderful gift to the world from the Argentinean people. He does not want to simply teach a set of steps following some futile pattern. Jean-Pierre desires to faithfully transmit to others what he has had the privilege to receive directly from the Tango Masters - the spirit of Tango.
Karina Ghor
TO BE SOON POSTED...
Irina Goudkoff
Born in the Republic of Georgia, with her early years in Ukraine and Poland, Irina has always enjoyed music, piano and dance. Here in the United States, Irina's joy of dance came via East /West-Coast-Swing and Lindy-Hop programs at City College of San Francisco. Additionally, Jazz and Belly Dance classes also expanded her dance abilities.
Later, learning Tango brought her a new dance experience. Involvement in Tango made her life more colorful through the various tango classes/workshops, beautiful tango outfits and shoes, and a new circle of Tango friends. Trips to Argentina to enhance her Tango skills also encouraged Irina to learn Spanish. In turn, learning Spanish became yet another passion opening up a new door to a whole new culture.
Knowing from her own experience, the challenge learning Tango would bring, she is happy to be a teacher's assistant and help in any possible way. She is very thankful to her teachers, all of whom have contributed to nurturing and maturing her dance skills.
"While dancing Tango nothing matters! Returning home from Milonga, Tango music still reverberates in my heart, and I know the moments of absolute happiness do exist in this world. Tomorrow, it will be easier to go through the busy daily routine at my job as a Program Coordinator."
Rotating Assisting Teaching Partners
We are here innovating in a new formula where Jean-Pierre will be partnering with more than one talented dancers in their role of Assistant Instructors.
The "Assistant" in front of the "Instructor" should not mislead anyone as these Ladies do have a deeper understanding of Tango and Kizomba. They DO qualify for helping with the instruction of the Dance and the spirit of Tango... and Kizomba.
They will be rotating in a way that will insure their continuous presence. Please, check the Tango calendar to know who is on schedule.
Vita Pakhomova
Discovering Argentine Tango
I came into the tango world unaware that tango will become my life. It will swallow me and will change my life completely. All prior events of my life will link together, will have its purpose, so I will be ready to learn and enjoy this wonderful dance.
I was never a dancer. My parents thought it would be much more important for a child to learn math and science and balance it out with classical musical training. When I was 7, my parents sent me to a music school to study piano. I don't believe I enjoyed it, but I learned its complexity, how to understand music and appreciate its beauty. Then 20 years later, as an adult, I found yoga. Yes, yoga! I learned how to connect my body and mind, and work on my strength and balance.
Then my first dance! My first dance was West Coast Swing. I realized I enjoy dancing and most likely will be dancing all my life. I was dancing West Coast Swing for a couple of years and it became one of my many hobbies. I would take lessons once in a while and go dancing socially. Then one day, I was taking a West Coast Swing lesson at Allegro and I observed a Salsa lesson in the studio next to ours. Immediately my feet started moving to the salsa rhythms. It was time to try on another dance. I dove into a new dance.
I loved the music and the energy of the dance, and it became my new hobby. Couple of years later, one day, my boyfriend at the time, told me that he would like to take a tango lesson. I thought to myself, "why not?"… and we signed up for a class.. I didn't think much of it at first, until I signed up for a weekend workshop in San Francisco. I loved it, It looked like I found another hobby. But how naïve I was, I thought I found a hobby, but I have found a passion which transformed my life. The more I danced, the more I loved it, and the more I understood that this beautiful and complex dance requires you to understand music, balanced your body and mind.. It's like an onion, it opens layer after layer. All my training in music, yoga and meditation, my prior hobby-dances revealed in one dance, I became fully consumed and happy.
I found a wonderful community. I am studying with amazing teachers. I am finding tango dancers everywhere in the world, and I am dancing tango everywhere in world. It opened my world, and yet made it a small place. I love tango!!!!
Mia Yamauchi
As the dhas always had an awareness of dance but quite frankly thought of it as "her parents' thing." However in 2012 just a couple years out of college she started to feel that there had taughter of two avid dancers, Mia o be some better way of socializing than standing around at bars buying overpriced drinks. She finally tried dance and after just one class became addicted to everything tango: the fun outfits, sexy shoes and sophisticated, playful music. She became obsessed and soon began assisting with classes throughout the East Bay as well as designing and sewing her own tango dancewear.
The best thing about tango is that it's so easy to start: if you can walk, you can tango. And yet--there is ALWAYS a whole new world of understanding to reach for no matter what level a dancer achieves. It means that it's easy to get started but you never get bored.
My message to beginner ladies: Wear high heels with a secure ankle strap. Some people start of in flats, but strangely enough it's actually easier in heels because we are on the ball of the foot most of the time. Wear a flowy, flirty, knee-length skirt. Tango is all about feeling sexy and creating fun movement. And don't worry about whether or not to bring a partner. Everyone switches partners with everyone else each song so it doesn't matter either way. The most important thing: everyone in a beginner class is a beginner, just like you!
Erica Knight
(for KIZOMBA)
A life-long lover of music and dance, Erica Knight has explored a diversity of dance forms including American folk dances, salsa, and Argentine tango.
Most recently, she is excited to share her journey into the undulating rhythms and heart-to-heart connection of kizomba with students at Tango Magdalena. Erica is also earning her MA in counseling psychology, and brings a deep respect for self-expression, communication and connection to the dance floor.
..