Monthly publication by Tango Magdalena. All rights reserved.
Photography: Bianca Blesching; Chittan Baartse; Elena Dopiro
Video Editing: Bianca Blesching, Uwe Blesching
----------------------------
Editor: Ellen Mulholland
UPCOMING EVENTS
LIVE MUSIC with
TANGONERO
back @ our Milonga on
ZEYCAN is our new Guest DJ. She's on, every 3rd Friday of the month.
In September she'll be on, Fraiday 25.
>>>IGOR POLK
Teaches a class before our Milongas, from 7:30 PM to 9 PM
ARCHIVES
Last 2 Recent Articles
TANGO MAGDALENA presents,

SANTIAGO & AMY

From Buenos Aires (Argentina)

They mill perform in our studio, on FRIDAYS September 18 and 25

They will teach Workshops on September SATURDAY 26 and SUNDAY 27

We are very pleased to have Santiago and Amy teach in our studio this month. We have made plans to have them teach a regular class once a week, in November 2009. We will, of course, keep you posted.

We are convinced you will learn good things from them and will most likely hear some of the things you have been studying with us, re-emphasized. The great confidence we have is that your Walking excercises we've been tirelessly talking about have adequately prepared you to benefit from Santiago and Amy's experience (or any other good teachers, for that matter).

Join us on the 18 and 25 to welcome them as they perform for us in our regular Milongas, prior to their teaching week-end.

Tangamente,

Jean-Pierre & Bianca

© September 2009
Student of the Month
Featuring Artist:
Margaretta K. Mitchell
FACE TO FACE...
A SPECIAL PHOTOGRAPHY discounted deal this month.
September 17, 18, 19...
YOGA INSTRUCTORS
Display of our friends' Birthday celebrations at our milongas.
Suzanne...Grace.... HAPPY BITHRDAY!!!!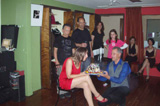 Click on image to enlarge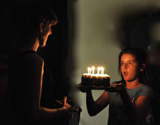 Click on image to enlarge