ARTS (Afro Roots in Tango Society)
and its first breathing experience
by Jean-Pierre Sighé
The energy has been received, sustained, and nourished with confidence, in spite of all conceivable discouraging factors. The embryo has grown and now, in a remarkable labor, a beautiful event marks the birth of ARTS.
In honor of this new society, we will celebrate the 70th birthday of Tango's Facundo Posadas at San Francisco's Verdi Club on August 12, 2010. (Pr Robert Farris Thompson from Yale, author of "Tango, the Art History of Love", will not be able to be with us due to a family emergency. He regrettably called to let us know that he needs to reschedule his Bay Area visit.) Still, the symbolism of this event merits attention.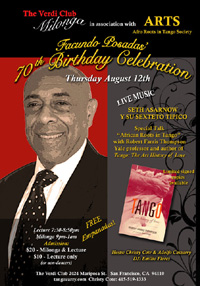 Firstly, we have Facundo himself, the ARTS' ardent inspiration. As humble as he is, not wanting any personal credit for the creation of the group, we know in our heart of hearts that his presence galvanized the energies in a way that could surely have been more laborious and uncertain. His birthday could not come at a better time. What greater way to celebrate than with the birth of the man who has represented Tango and Argentina throughout the world for more than 50 years. It is not unimportant to point out that Facundo's family is well wrapped around the history of Tango. The Posadas family has contributed indelible memories. Check your popular Tango songs and note those composed by Carlos Posadas: "Retirao", "El Simpatico", and "Jaguel", to name a few. of his more than 40 Tango pieces. Such stature merits due credit, especially when we know how people have attempted all kinds of ugly tricks and logic to minimize one of of Tango's roots - the African root.
Secondly, Bay Area Tango dancers are combining energies to bring to life something nonexistent weeks ago. Heeding the call from Facundo's heart, we willingly embark on this journey with him. After all, bringing to existence ideals greater than us matters most. Our participation, no matter how humble it might seem, carries great weight. As they say in spiritual circles: "a 'smaller' light adds to another 'smaller' light to produce a bigger Light".
We have the potential to reach out and bring others to the experience of Tango. The birth of ARTS thus allows us to fill in Tango's missing chapters of history. I often mourn that just after 100 years in existence the Argentinean Tango might have lost so many pages of its history. Yet, now Tango shines before many as a world gem, a heritage of our humanity; so it befalls on us to ensure all its pages are written. I have no doubt that our devotion will reflect the dedication of Facundo to Tango.
Thus, the symbolism instilled in August 12th's remarkable event - of which we, the members of ARTS will participate - will serve as a constant reminder of our role in the coming weeks, months and years.
I take this opportunity to thank the people who have greatly supported Tango Magdalena Dance and Art Studio. People often comment that the studio's ambience exudes a certain coziness. It is true that the initial intent presiding at the inception of any activity might carry its intentions forth. Yet it's also true that the quality of the people coming to Tango Magdalena remains a tremendous factor. We have so enjoyed the generous food and drink many of you have shared with us - all out of the goodness of your hearts. Kindness such as this has made the studio a place of community. A big thank to you all!!
We look forward to having you join us at the great event at Verdi on August 12. May our passion grow and may our fantastic journey continue.
Tangamente!
VERDI CLUB, 2424 Mariposa street, San Francisco
Time : 8:15 PM

© August 2, 2010